The name's 12 – TFV12 and I'm here to drink ya juice and create a storm cloud – and I'm all out of juice – literally.
Yup say hello to the SMOK TFV12 Cloud Beast King and trust me guys n gals this is a cloud chucking behemoth.
It's the obvious choice if you fancy yourself as a human volcano or have a yearning to become a new Marvel superhero – let's call him Pea Souper Man.
This monster claims to be the King of the sub ohm tanks – or as I call it the sub Oh My God tank lol.
Now as an aside you might be one of those vapers that think a coil capable of hitting 350 watts is ridiculous.
I hear you – I mean just how far does vaping need to go before someone says STOP!
But hey I think we're missing the point here.
Vaping – apart from being the best way to quit smoking – is also fun!
And as a believer in freedom – and I mean real libertarian freedom – then I say whatever floats your boat.
I mean just because the SMOK TFV12 coils hit 350 watts don't mean you have to hit those heights – or rush out and buy a vape mod that can handle it right?
But I'm digressing as usual – let's see if we can fight our way through the fog and take a look at the 'controversial' Smok TFV12 Cloud Beast King.
In the Box
It's your usual Smok packaging as in a colourful sleeve featuring a volcano spewing lava with a nice photo of the TFV12 front and center.
I received the rainbow effect '7 colour' version and have to say it's certainly 'striking' to look at – it's also available in black – stainless steel and gold.
Inside you'll find:
1 TFV12 Cloud Beast King
1 0.12ohm V12-T12 Duodenary Coil
1 0.15ohm V12-X4 Quadruple Coil
1 0.15ohm V12-Q4 Quadruple Coil
1 Replacement Glass Tube
Spare Parts & O-Rings
Cloud Beast King Tank Ring
Instructional Manual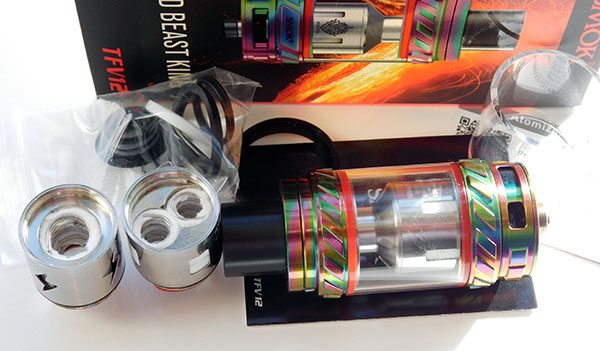 An RBA version is due for release.
Smok TFV12 Cloud Beast King Specs
27mm Base Diameter
28mm Reservoir Diameter
6mL Maximum Juice Capacity
Superior Stainless Steel Construction
High-Grade Glass Reinforcement
High-Temperature Resistant – Explosion Proof
Signature Top-Fill Rotary Design with Hinge Lock
Massive Dual Adjustable Airflow Control at Base
Black Delrin Ultra-Wide Drip Tip
Performance-Grade V12 Coil Structure
0.12ohm V12-T12 Duodenary – rated for 60-350W, recommended 130-200W
0.15ohm V12-X4 Quadruple Coil – rated for 60-220W, recommended 100-170W
0.15ohm V12-Q4 Quadruple Coil – rated for 60-190W, recommended 90-160W
510 Connection
It's a big bugger let's put it that way.
Focus On www.ave40.com For More Vape Tank.
Key Features of the Smok TFV12
OK apart from the 6ml bucket sized e-liquid capacity the key feature here has to be the coil that has split the vaping world.
The TVF12-T12 coil has the revolutionary duodenary head – duodenary btw is the word used to relate to the number 12 – so in this case the 12 refers to the amount of cylinders within the coil if that makes sense.
Anyway it's this monster coil that has caused some vapers to get their panties in a twist.
As I've already said if folks want to vape at 350 watts then so what?
If they can and it's safe then more power to your clouds mate.
Personally it's not something I can see myself doing – though [and this is the truth] for the purpose of this review I went out and bought a Wismec RX200S to see if the TFV12 Cloud Beast King vapes OK maxing out as I did at 250watts – more on that in a bit.
So apart from blowing enough clouds to blot out the sun on whatever continent you live what else has this beast to offer?
To be honest Smok has stayed true to the rest of the Cloud Beast family – it looks the same [apart from extra chunky knurling] – however the juice fill hole is considerably larger.
I know from experience it was a bit of a pain fitting larger glass drippers into that hole.
Otherwise it is what it is a bigger version of the TFV8 Cloud Beast – bigger in every sense given it's as big if not bigger than my mini mods lol.
Design and Build Quality
It reminds me of a tractor or an off roader given its chunky knurling.
Now that's not a bad thing – I like off roaders lol – but first looks makes you realize this is indeed a serious piece of kit.
Like pretty much all Smok products [I did say 'pretty much' lol] it's wonderfully put together with nice machining.
Straight outa the box things are a little stiff but once juiced up the threads move nicely.
The absolutely ginormous airflow ring spins with just enough resistance to keep it in place – but it does keep on turning as there's no catch to keep it in place. But like I said once you've set your preferred setting it pretty much stays in place.
As you might expect the coils themselves have huge juice fill ports of varying shapes and sizes with the V12-Q4 having funky looking lightning bolts instead of your run of the mill slits.
Not sure if that did anything to the cloud production or taste if I'm honest and personally I thought it looked a bit daft and the kind of logo Pea Souper Man might have on his costume
Everything comes apart easily for cleaning and Smok includes a 510 drip tip adaptor should you wish to use your own.
How Does the SMOK TFV12 Perform?
Now anyone who says vaping doesn't set off smoke alarms needs to go and talk to my 20 or so neighbours.
I live in a newly built set of flats [apartments if you're posh] with state of the art fire alarms.
Now with both my large windows wide open I took a few pulls on the V12-T12 coil and within seconds my pretty large room was filled with vapor.
Unlike any other clouds I've created before this vapor just seemed to hang there!
I waved my arms around like a loon for a bit and if I'm honest it was like boxing candy floss!
Boy is the vapor dense!
Anyway – long story short – I spent the next half an hour tooting away on the three different coils and absolutely loving it – so much so I had a big stupid grin on my face the whole time – vaping on the TFV12 is fun!
Call the Fire Brigade!
However.
I opened the door to visit the bathroom and within 3 seconds the fire alarm in the building was triggered and holy crap is it loud!
Cue disgruntled neighbours in their PJs with little wide eyed kids crying on the landings.
Ooops.
They knew it was me as the readout was flashing my flat number for all to see. I guess opening the door and seeing a huge grey sweet smelling cloud filling the hallways was a bit of a giveaway too lol.
Anyway if that doesn't show you how the SMOK TFV12 performs then nothing will.
The vapor production is intense – it's thick – dense and seems to have substance lol.
Flavour wise I've not been that impressed with the Baby Beast or the Big Baby Beast if I'm honest – but Smok seems to have cracked it with the coils I tried.
V12-T12 Coil
OK after letting this soak for a good twenty minutes I took it from 100watts to 250watts.
At 100watts it was a cold vape but with a decent flavour. The clouds were impressive to say the least and absolutely smashed the vapor production from the Big Baby Beast.
However once I'd gone through the gears so to speak I hit the 250watts and just Wow!
Never mind clouds for days or weeks we're talking no sun for months lol.
And at 180 watts the flavour was absolutely stunning.
V12-X4
By far the most sensible [haha] of the coils you get with the kit coming in with a sweet spot of around 120watts.
Once again cloud production was phenomenal and the taste as good as I've tasted on a Smok stock coil – yeah even as good as the flavoursome low wattage SMOK Brit tank lol.
I did try to max this one at out 200watts and things got a little warm with the flavour dipping considerably giving me not quite a dry hit but the threat of one.
V12-Q4
This is the coil with the lightning bolt cut-out juice flow holes so I was expecting fireworks from this one.
I took this beauty from 60watts to its max of 190watts in 20 watt increments.
At the lower end clouds were amazing whilst taste was weak.
I didn't like the vape at 190watts as again it bordered on the threat of a dry hit – not that I got one but I wouldn't chain vape at that wattage if you catch my drift.
However at 165watts the taste on this coils blew me away – it absolutely zinged off my tongue with clouds to die for!
As to the longevity of the coils I am currently reviewing Smok's AL85 kit that comes with the Baby Beast tank.
It might be my bad luck but I am getting no flavour and tons [I mean tons] of dry hits after just one day with both the coils included in the kit – see my review soon.
I have used 70/30 and 80/20 VG and PG e-liquids on the SMOK TFV12 coils and a week later they are all performing and wicking well – and that's using them every single night at high wattage.
Focus On www.ave40.com For More Latest Vape News.
Now It's Available : SMOK TFV12 Tank
Hot Sale Recommendation:
Vaporesso Aurora Play Zippo Pod Starter Kit